ALL BOSTON-AREA ADULT TENNIS PAUSED FOR 3 WEEKS AS OF 12/16 PER MAYOR  •  JUNIOR & ACADEMIC PROGRAMS CONTINUE  • 
Sportsmen's
builds leaders on the court,
in the classroom and
in the greater community.
LEARN MORE
Sportsmen's
provides academic,
social development, health
and wellness programs
for youth & adults.
LEARN MORE
Sportsmen's
provides recreational
and competitive tennis
instruction for
youth and adults.
LEARN MORE
Sportsmen's
is committed to improving life opportunities for youth in Boston's Blue Hill Corridor while welcoming a diverse community from the Greater Boston area.
DONATE TODAY
What We Do
Sportsmen's offers free and low-cost tennis, academics, and life skills programming to more than 5000 youth annually. Pioneering programs like Volley Against Violence and our Center for Community Wellness extend our outreach to Boston's underserved communities. Adult recreational and competitive tennis programs welcome diverse players from all over the city and help fund our non-profit mission.  We are proud partners of the Boston Public Schools, Brigham & Women's Hospital and the Boston Police Department. We are also one of the largest members of the USTA's National Junior Tennis & Learning Network and the only New England chapter to receive its ICON Award.
A Message
from our CEO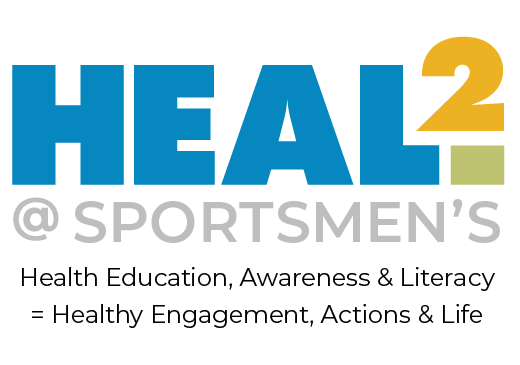 Thyroid Health
with Dr. Kelly Schuering,
Internal Medicine/Primary Care, BWH
Thursday, January 7, 2021
7:00 pm – 8:00 pm on Zoom
Obesity and Weight Management
with Dr. Fatima Stanford, Obesity Medicine, MGH and Chioma Tomlinson, Physician's Assistant, BWH
Thursday, January 28, 2021
7:00 pm – 8:30 pm on Zoom
COVID-19 UPDATES
As of 12/16, all ADULT tennis programs in the city of Boston are temporarily paused for three weeks per the Mayor's order. Junior clinics and academic/social programs for youth are continuing.  As before, all entrants to the facility must complete our Daily Health Attestation. Courts must be reserved and paid for in advance and waivers signed. Please click links to the right.
Throughout the pandemic, Sportsmen's continues to provide daily online academic support for our students and virtual health and wellness programming for our community.